Sustainable Innovations Are Coming For Fashion
Material Innovation and Reuse, Fueling the Sustainability Trend in the Fashion Industry
Sustainability remains to be one of the top themes in 2022 for many industries, and businesses around the world are now facing a greater pressure to act now rather than later. As seen at

COP26

, the annual global climate change conference, sustainability was a key agenda at the 2021 event. The focus was on initiating actions that provided measurable outcomes with positive impacts on the environment as well as the general society. According to a recent study from

Bloomberg Brand Accelerator

, 99% of business leaders deem ESG (Environmental, Social, and Governance) efforts and company reputation as critical components in their future decision making.
The fashion industry has long been regarded as a major player needing to take a more active role in addressing

climate change

. With

key concepts

such as circular economy and regenerative fashion on the rise, it is imperative for the industry to innovate and adopt sustainable practices to improve its current product design and production processes. In addition, new legislations, such as

The Fashion Act

introduced in New York that requires mandatory information disclosure and due diligence from retailers and manufacturers, are forcing brands to abide by policies that uphold sustainability trends.
Innovations for a more sustainable future
Material innovation is one of the most popular and widely adopted solutions. The environmental issues resulting from plastic waste disposals have paved the way for increased research and development for viable substitutes. In order to reduce the impact of single-use plastic waste and the dependence on petrochemical materials, businesses are actively sourcing more sustainable materials, such as bioplastics and natural fibers, hoping to replace petroleum-based materials.
Thanks to the advancement in technology, a number of options are available in the market to help businesses achieve sustainability without compromising product functionality and quality. One of the materials that has been widely accepted as a replacement for finite fossil resources is PLA (polylactic acid). The commercially compostable and biodegradable composites are made from renewable and natural raw materials, including agricultural and forestry residues, microbes, and recycled food waste. Furthermore, PLA can break down in weeks with minimal excess pollutants, versus ordinary plastics which could take centuries to dissolve and generate an abundance of microplastics along the way.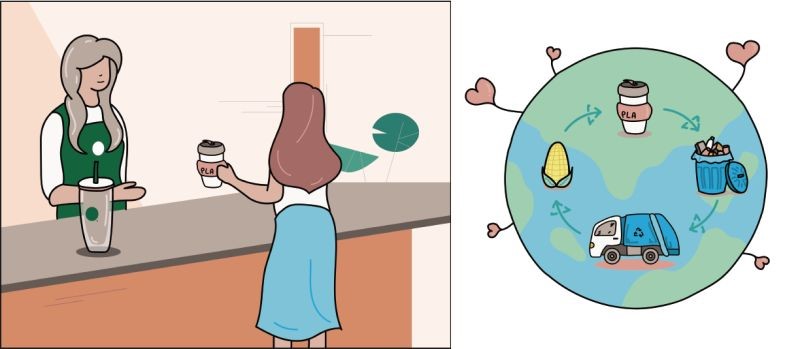 In celebration of Earth Day, a globally renowned coffee chain partnered with Woodmax in launching its new sustainable product collection. Reference case study here:
https://www.woodmax.com.tw/cases/index/13
In addition, natural polymers and plant fibers are also suitable alternatives as sustainable materials. Aside from pro-environmental advantages, plant fibers are also popular for its strength, thermal properties, and cost benefits. Moreover, the introduction of breakthrough engineering such as applying appropriate treatments on the plant fibers that act as the reinforcement on the plant starch allows the bio-composite to possess features to compete with petroleum-based plastics.
For instance, Woodmax's latest Bamboo Fiber + Plant Starch solution is a perfect substitute for traditional paper cups with waterproof membrane. It contains no PLA (corn starch resin), is naturally decomposable and combustible without any toxicants, and is reusable after washing.
Fashion labels taking steps in the direction of sustainability
Consumers today are more

conscious

of sustainability when making beauty and fashion related purchases. With

73%

of customers assessing luxury brand's environmental policies, it is critical that brands place a stronger emphasis on sustainability, from the launch of environmentally-friendly products and packaging to policies and campaign initiatives.
Innovative material applications can be found in nearly all types of clothing and accessories at both high-end luxury houses and designer brands of all sizes. The ethical fashion pioneer

Stella McCartney

has continuously incorporated natural fabrics and sourced from recycled polyester, regenerated nylon, and plant-based plastic to their designs since the early 2000s. Louis Vuitton, Gucci, and Balenciaga joined the movement with the debut of their cruelty-free

vegan sneaker collections

. Plenty of sustainable

sunglasses

brands like Wear Panda are using bio-acetate made from bamboo, cotton, or other regenerated materials to offer customers more durable, eco-friendly, and stylish eyewear choices.
While renovating the manufacturing processes and materials is a must-do, it is also critical for fashion brands to help promote reusability and upcycling to address waste and pollution issues followed by overconsumption of single-use products. For example,

Loewe

launches its The Surplus Project to offer iconic bags made with scraps that used to be discarded. The integration of sustainability sometimes can also be demonstrated with new product line expansions. Seeing that plastic drinking bottles represent

one of the biggest contributors

of waste,

fashion houses

including Fendi, Loewe, Marine Serre, and Dior are joining forces to provide stylish reusable bottles that light up people's hydration routines. With drinkware being so essential to everyday activities, it is not only an opportunity for users to make a fashion statement, but also an ideal starting point for fashion labels to help raise the sustainability awareness and lessen the use of disposable containers.
Design and innovation: Key to transformation in 2022 and beyond
Fashion in 2021 has made strides in sustainability, but with accelerating climate change and increased industry regulations, creativity and innovation will be mandatory moving forward. Brands and designers must shift to a mindset centered around circularity, thereby introducing more responsible creations in response to the upcoming trends. Although real change will take time, with each innovation will follow a greater adoption of more ethical and sustainable goods by consumers, and hopefully be able to achieve the transformation needed in 2022 and beyond.
The environmental sustainability in the supply chain mostly relies on the innovations in production, technology, and sourcing. Woodmax, as a total solution provider of design and manufacturing, is looking to provide integrated services to all sectors including the fashion industry to enable the upcoming sustainable initiatives.
Interested parties will be able to reach Woodmax through Facebook & LinkedIn, and read about Woodmax's products and services through the website:

www.woodmax.com.tw
GET IN TOUCH
WOODMAX KY INDUSTRIES CORPORATION
3F. NO. 91 TA SHUN 1ST ROAD KAOHSIUNG CITY, 813 TAIWAN R.O.C.
TEL:+886-7-5560123
FAX:+886-7-5560101
EMAIL:ideas@woodmax.com.tw