Woodmax Corporate Social Responsibility
Woodmax remains committed to its social responsibility and takes pride in its philanthropic efforts. Woodmax seeks to continually impact communities around the world by partnering with non-profit organizations, volunteering, and providing financial assistance to communities less fortunate.

One such partner is ICF Campus, which offers food and education for the local people in Siem Reap since 2014. ICF Campus serves as a safe community area for children and young people in the surrounding villages. In a protected, supervised environment, they can engage in sports and acquire basic knowledge such as gardening, woodworking, swimming or English lessons. In addition, the campus offers free clean water to the community.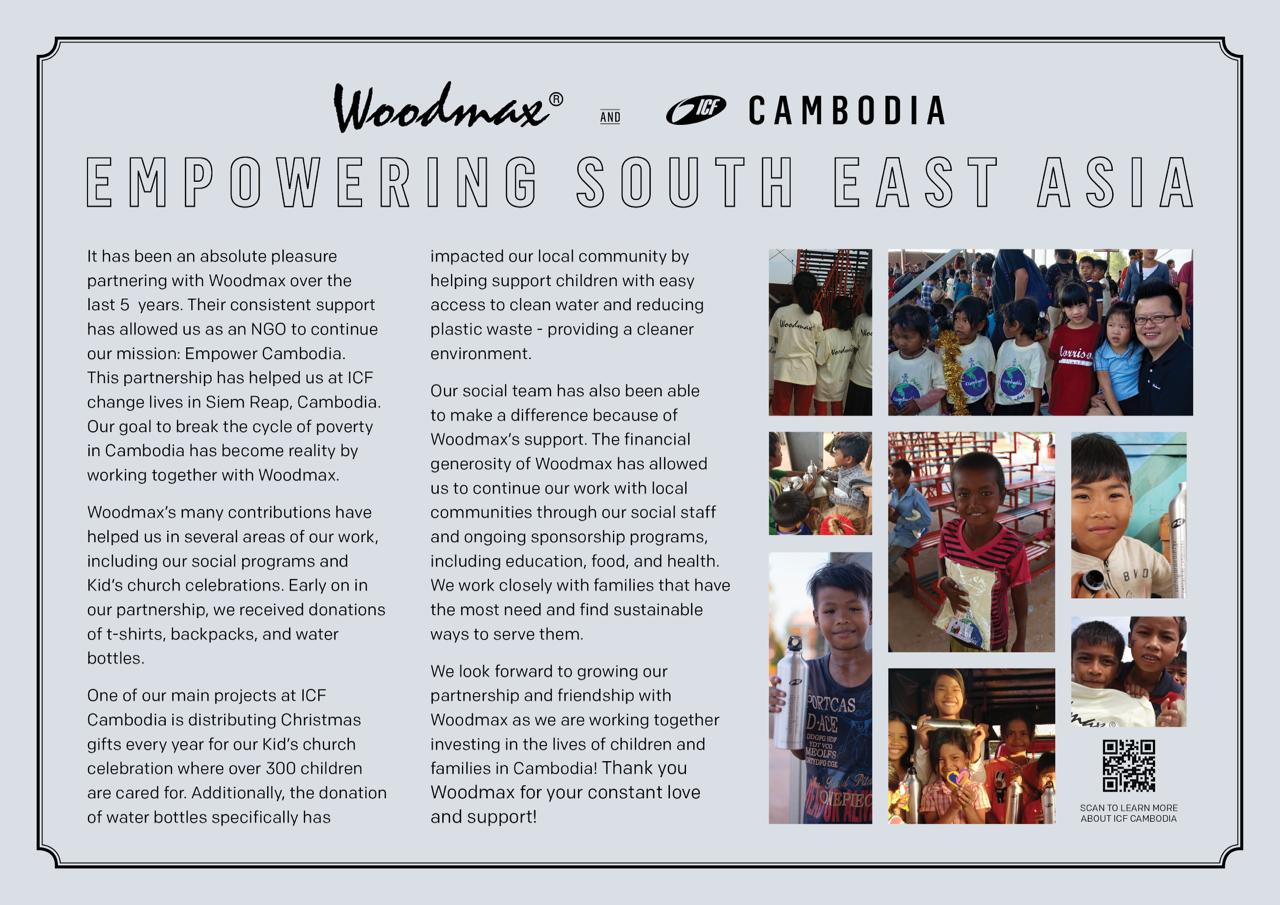 Global Partnership
Woodmax supports projects in Taiwan, China, USA, Cambodia, and Kyrgyzstan. Supporting communities is an essential part of our company culture.
WOODMAX SUPPLIER DIVERSITY PROGRAM
At Woodmax, our core values are: quality excellence, honesty, and cooperation. We believe that building a world-class innovative company necessitates a commitment to supporting diversity and inclusion in all parts of our operations. In the United States, we are a recognized Minority Owned Business (MBE). We are convinced that a varied and inclusive supply chain benefits not only our business but also the economic prosperity and well-being of our communities. We are committed to creating opportunities for suppliers from diverse backgrounds and promoting equitable access to our procurement processes.
Our Commitment:

Inclusivity:
We are dedicated to welcoming suppliers of all backgrounds, including minority-owned, women-owned, LGBTQ+-owned, veteran-owned, disabled-owned, and small businesses, among others. We actively seek to collaborate with suppliers from underrepresented groups and ensure equal access to our procurement opportunities.
Fairness: We maintain a fair and transparent procurement process that evaluates suppliers based on their qualifications, capabilities, and performance rather than their demographic characteristics. We hold all suppliers to the same standards and provide a level playing field for all.
Partnerships: We prioritize to expand our partnerships with diverse suppliers who share our values and can provide innovative solutions. We recognize that diversity in our supplier base strengthens our ability to serve our customers and drives innovation in our products and services.
Employees of Woodmax who are involved in the procurement of products or services will support the diversity and inclusion activities and actively look for competent, diverse suppliers to take part in open competitions for procurement possibilities. To monitor and evaluate our progress, we will develop the measuring tools that are required.
By embracing diversity and inclusion in our supply chain, Woodmax aims to create a stronger, more vibrant, and sustainable future for all. We invite our suppliers, employees, customers, and partners to join us in this journey towards a more inclusive and equitable world.
GET IN TOUCH
WOODMAX KY INDUSTRIES CORPORATION
3F. NO. 91 TA SHUN 1ST ROAD KAOHSIUNG CITY, 813 TAIWAN R.O.C.
TEL:+886-7-5560123
FAX:+886-7-5560101
EMAIL:ideas@woodmax.com.tw